Stella Jean expands the notion of 'Made in Italy'
Now that the dust has settled and performative activism has fizzled out, what actions have been taken since the BLM protests in Italy? Who is doing the work to make Italian society more inclusive and what's the pushback? Fashion gives us a clue.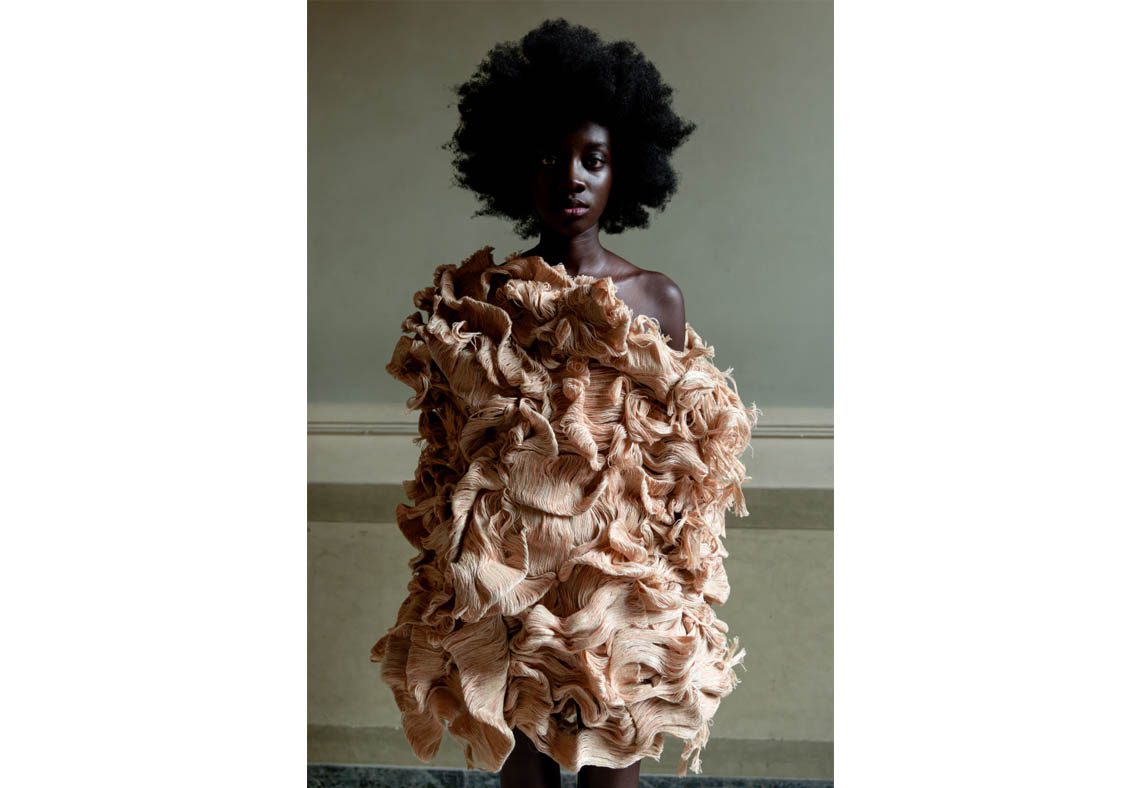 Design from the Spring 2021 collection of Gisfab Design, by fashion designer Gisèle Claudia Ntsama.
Image from Black Lives Matter in Italian Fashion Collective.
In Italy, little has been done to face the realities of inequality and discrimination towards minorities, mainly because an initial conversation about racism with entities in denial of being racist at all is a challenge within itself. As we all know by now, racism comes in many forms, from daily micro-aggressions to episodes of violent outbursts, but conversations around this topic only seem to gain a little traction when we hear about the latter. There is a sense that despite the awareness sparked by the BLM protests back in June, Italian power structures still struggle to understand the role they play in all of this and probably wonder why we're still pushing for these conversations at all. Italian designer Stella Jean was among the very (very) few high profile people to speak out and address this issue in a meaningful way with a proposal to Camera Nazionale della Moda Italiana – the fashion council that organizes the Milan shows – during a BLM protest in Rome, which got the attention of international news media outlets.
Stella Jean, who is of Italian and Haitian heritage, is the only Black member out of the 113 at CNMI and she is urging more Italian fashion houses to hire more people of color. This concerning statistic isn't raising any alarms, instead, it's used to prove that in assisting her financially over the years, along with the efforts to scout emerging brands, the fashion council is doing their part; what they fail to understand is that denied job opportunities, whether it be towards foreigners or Italian minorities, is complicit to systemic racism and the focus shouldn't be on Jean's singular case.
As BBC News reports, because of migration in the past few years, Italian society is changing very quickly, but that's not reflected on catwalks, in magazines and in fashion stores. The misconception that to be Italian is to be white still exists. This could be the reason why tokenism, pushed by politically correct marketing initiatives, is seen as a good deed rather than an insult to the diversity of Italian society, and because second generation Italians are still a novel concept, including them in anything that revolves around the exported image of Italy is not even a prospect.
Although long lasting progress comes with a culture shift within the fashion houses, initial steps have been made. In a video supported by CNMI, Stella Jean released 'The Fab Five Bridge Builders' a short video that expands the notion of 'Made in Italy' through the presentation of the SS21 collections of five emerging Black and POC designers who were discovered by Afro Fashion Week and its founder Michelle Ngonmo. The designers invite the viewer to focus on their creations and witness what mindful multiculturalism designed in Italy looks like. There was never a need to clarify this until now, but 'Made in Italy' should not be defined by color.
Stella Jean proves that the loudest voice in the room doesn't always make a difference, not as much as a voice that perseveres. The huge effort it took to even get this far is also thanks to the support of Edward Buchanan, an African American designer based in Milan who has been by Jean's side since the inception of this initiative. It takes stamina, so let's start practicing what we preach.
The designers featured in this video are:
Stella Jean
Edward Buchanan
Modaf Designs
Frida Kiza
Karim Daoudi
Gisfab Design
Mokodu Fall