5 Movies to watch before the new year
Here are the top 5 films that made our movie list for the holidays. Grab your popcorn.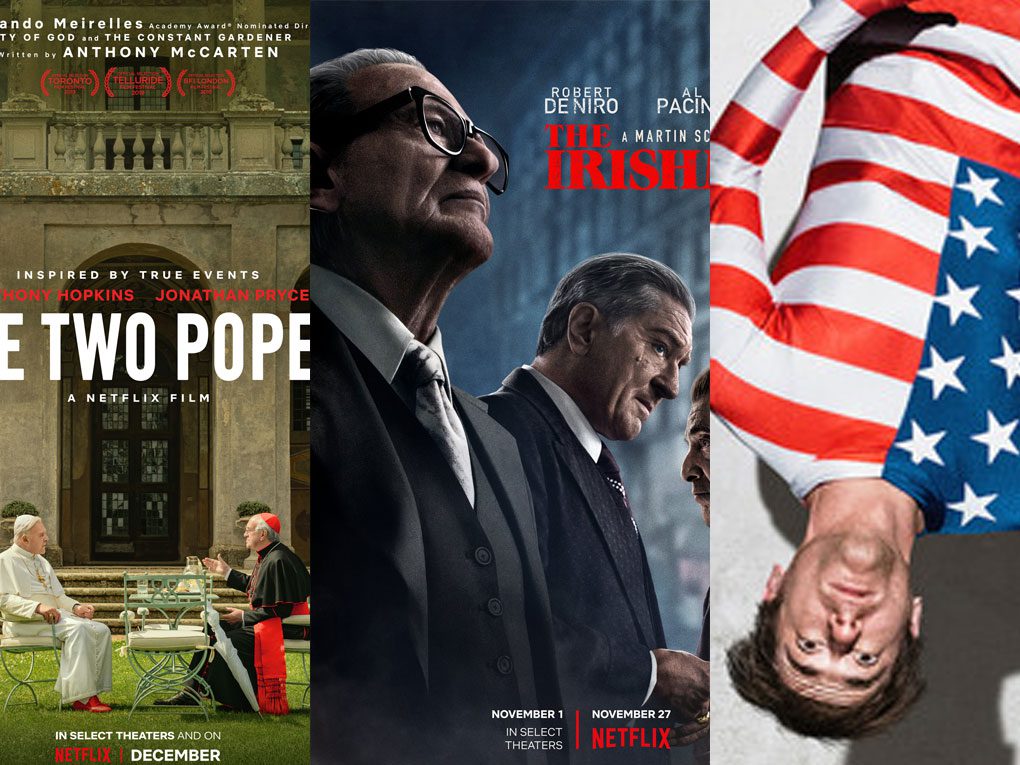 THE IRISHMAN
This is a saga of organized crime in post-war America told through the eyes of World War II veteran Frank Sheeran, a hustler and hitman played by Robert De Niro. Spanning decades, the film chronicles one of the greatest unsolved mysteries in American history, the disappearance of legendary union boss Jimmy Hoffa played by Al Pacino. This is not just another Mob movie by Martin Scorsese (he made 5 of them), it's a movie about time, mortality and the relationship between the main characters.
The Irishman brings Joe Pesci out of retirement to grace us with his performance as Russell Bufalino, the quiet and powerful don, and it marks the first collaboration between Al Pacino and the American-Italian filmmaker.
FORD V FERRARI
Based on a true story, the feud between the two motor companies began when Ford almost bought Ferrari in 1963, but the condition that Enzo Ferrari give up control was a deal breaker for the founder of the Scuderia and the offer was turned down at the last minute. Legend has it that Enzo Ferrari criticized Ford cars and factories, but also said that Henry Ford II could never fill the shoes of his grandfather Henry Ford.
This snub was the main reason why Henry Ford II wanted to get back at Ferrari and this is the story leading up to this David and Goliath race; Ford is committed to beating Ferrari at The 24 Hours of Le Mans, a long-distance sports car race in France and commissions what will be the Ford GT40.
PINOCCHIO
Film director Matteo Garrone brings to life the children's novel "The Adventures of Pinocchio" written by Italian writer Carlo Collodi.
This famous tale is about Pinocchio, a wooden puppet carved by a woodcarver named Geppetto, who comes to life and is committed to becoming a real boy. His efforts take him on a journey that will teach him about conventional values and how to distinguish right from wrong. This character is notably famous for his tendency to lie, but is punished every time he does by the growth in length of his nose. Oscar winner Roberto Benigni (La Vita è Bella) plays Geppetto and shares the screen with great Italian actors Rocco Papaleo, Massimo Ceccherini, Marine Vacth and Gigi Proietti.
THE TWO POPES
The resignation of Pope Benedict in 2013 was an incredible event that had never happened in 700 years and sparked an interest and curiosity in writer Anthony McCarten. The meetings between progressive incoming Pope Francis and conservative outgoing Pope Benedict took place several times and although nobody knows what was said during those encounters, McCarten stated that the two Popes were polar opposites and didn't agree on almost anything, which made it interesting for him.
There are a lot of heavy subjects and moments in this movie, but there's a lot of levity in the script as well – the writer tries to recreate life-like interactions by injecting humor in this drama as a means to humanize the characters.
It's a movie about dialogue, ideas and philosophy. Directed by Oscar-nominated Fernando Meirelles (City of God).
THE MAN WITHOUT GRAVITY
Oscar, played by Elio Germano, is a young man who has the power to defy gravity, but decides to keep his feet on the ground by wearing a backpack that prevents him from floating away. Once a secret kept from everyone, it's now out in the open when Oscar decides to reveal his gift to the world, but he's immediately taken advantage of by people who want to make a profit from it, at the expense of his happiness and his self worth.
This movie is a modern fairy tale and to watch Elio Germano play this character is pure poetry.
[masterslider_pb alias="ms-80-1″]